5 Reasons St. Lucia is the Caribbean's Ultimate Playground
Considering St. Lucia? We're sharing all the details on where to go, what to see, and how to dive headfirst into all she has to offer.
2019-08-22
St. Lucia is a Caribbean island with a rich history all of its own. Originally known as "Louanalao" or "Island of Iguanas" by the Arawak Indians in 200 AD, this cultural melting pot plays host to an authentic Carib Indian infusion reminiscent of its original settlers. In the 1600s, St. Lucia was fought over by the French, English, and the Dutch, all of whom wished to take St. Lucia as one of their colonies. The fighting continued for years until the French ceded St. Lucia to the English and, in 1979; she became independent within the British Commonwealth.
This diverse history offers St. Lucia a rich take on native, French, Dutch, and English cultures, all merged into one vibrant and colorful island. From her stunning mountain ranges to the iconic beaches, historic landmarks to the lush jungles fringing her shores, St. Lucia's personality and offerings are all her own. Here are five incredible adventures and reasons that make her the ultimate Caribbean playground.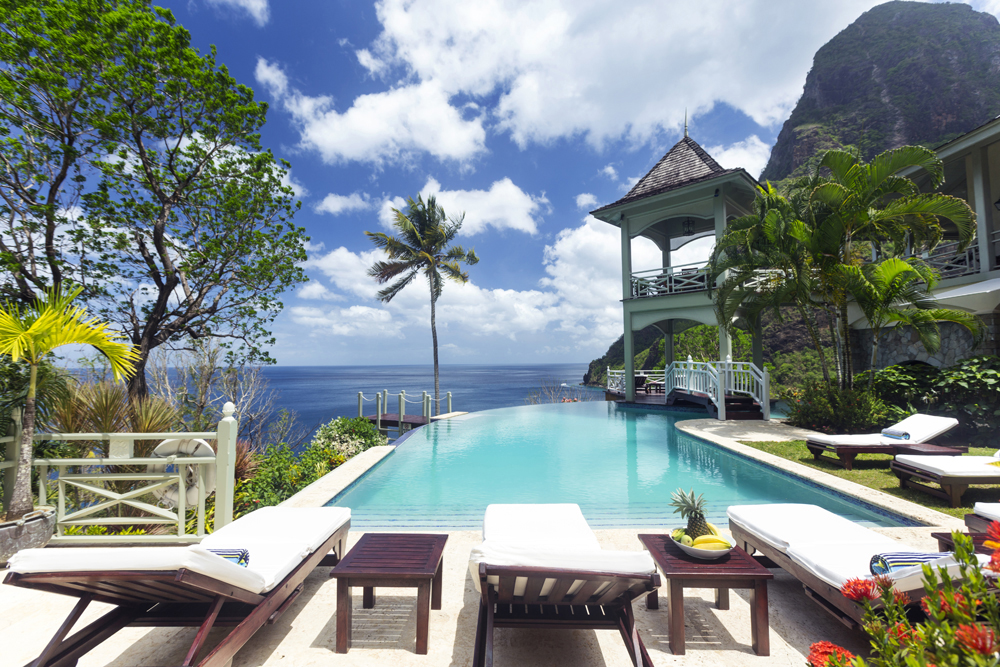 Arc en Ciel: 5 Bedrooms // 5.5 Bathrooms // up to 10 Guests
The Majestic Pitons
Perhaps the most famous of her landmarks are the majestic Pitons, two volcanic plugs. Gros Piton and Petit Piton lie on the southwestern coast, towering over the shimmering sea below. Hike around them and discover the exotic plants and animals, are sail around them by sea. As a villa guest, your Personal Concierge can actually arrange a tour of both, giving you a unique and personal look at their captivating beauty from both sides.


The Eponymous Soufrière
One of the most recognizable landmarks in St. Lucia is Soufrière, a town whose name comes from the sulfurous smell emanating from the volcanoes. Explore the town square and dive into the heart of St. Lucia – and be sure to take advantage of great shopping from both local artisans and luxury retailers. Or, visit the legendary Diamond Falls Botanical Gardens, which will take your breath away. If adventure is your cup of tea, Soufrière can be your base camp for hiking to Toraille where you'll cool off in the natural rainforest.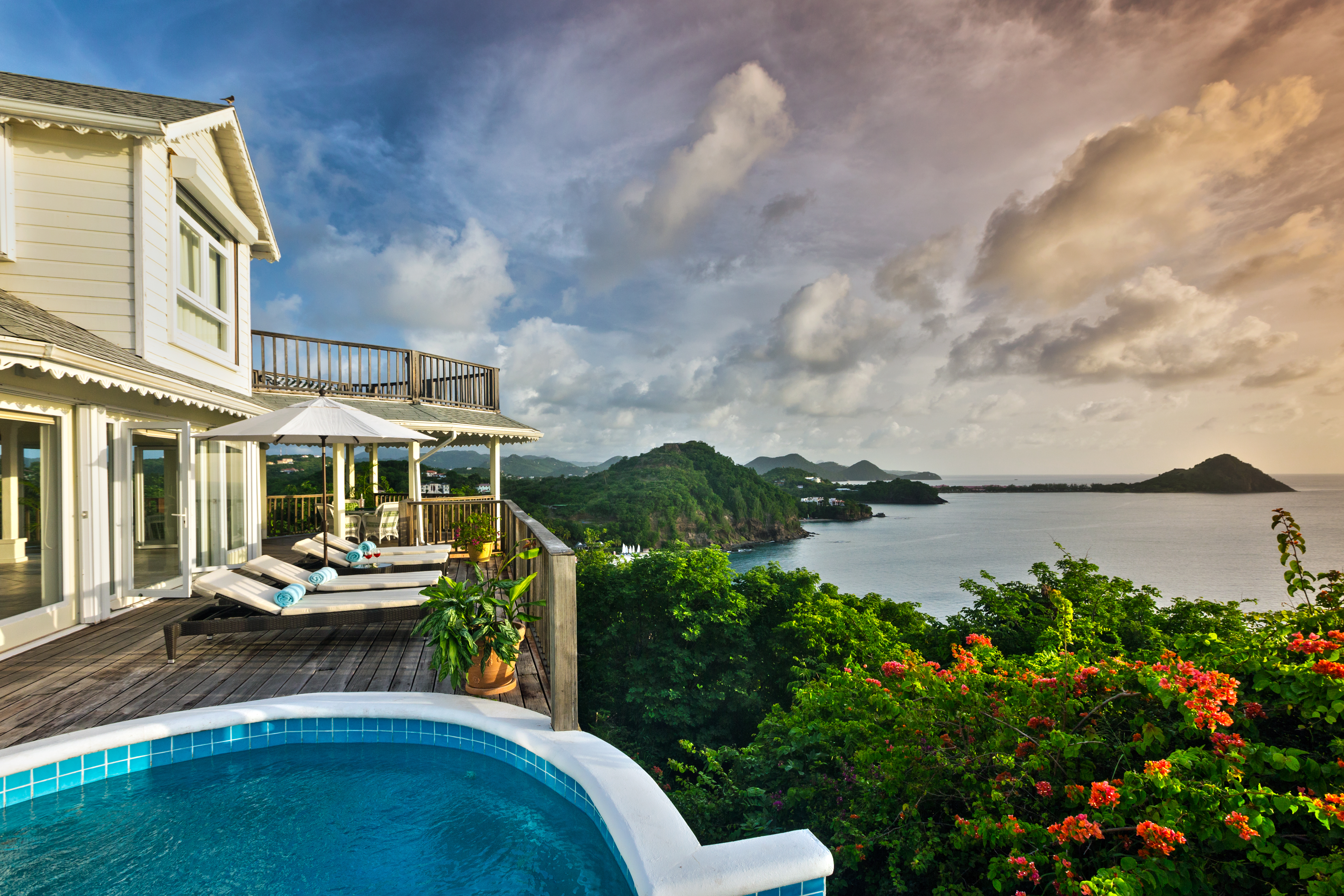 Lemon Tree: 2 Bedrooms // 2.5 Bathrooms // up to 4 Guests
The Historic Pigeon Island
St. Lucia's unique history comes alive on Pigeon Island, which was once a separate isle until 1972. This is the location where the infamous pirate, Jambe de Bois, made camp and set siege to the Spanish trade ships. You'll also have the unique opportunity to hike the ruins of Fort Rodney, once built by the English to fight the French. This national park immerses you in the island's rich past, and many visitors live snorkeling, diving, and sailing just offshore.


Epic Water Adventures
Water adventures come standard in St. Lucia, whether exhilarating or laid-back. Take the opportunity to experience St. Lucia's balmy surf and snorkel the underwater paradise around Anse Chastanet Beach and Virgin Cove. Or, explore some of the world's finest diving locations, with more than 20 sites along the western coast. If you're looking for something more tranquil and scenic, sea kayaking is perfect for you. Start in Marigot Bay and explore through Roseau Bay, the lagoons, and beyond.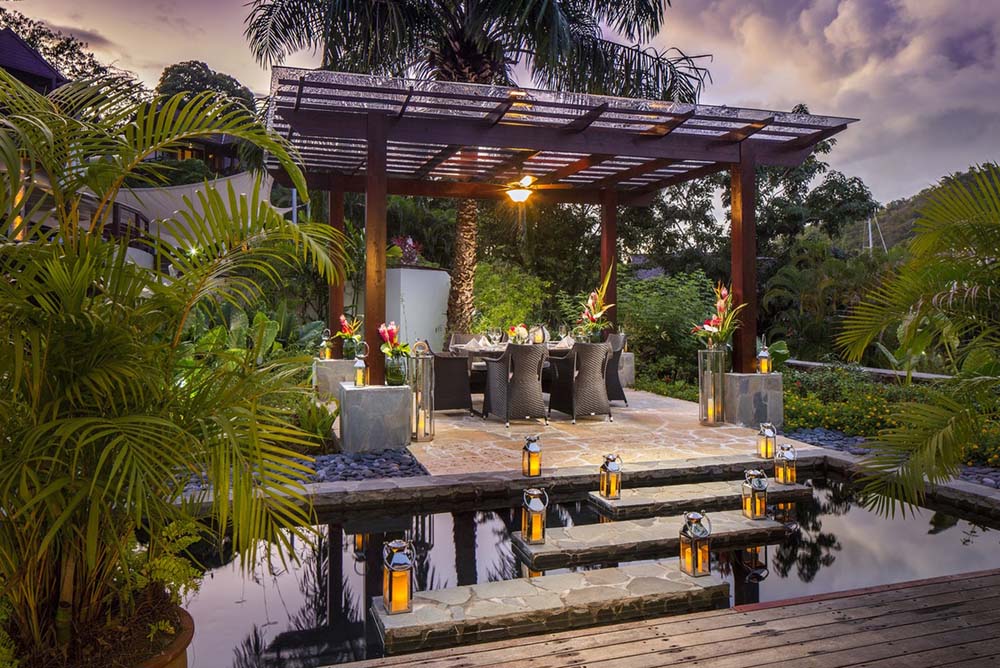 Marigot Bay Resort and Marina: 3 Bedrooms // 3 Bathrooms // up to 8 Guests
A Culinary Journey
St. Lucia's diverse history lends to its vibrant cuisine, which attracts culinary enthusiasts each year. Featuring some of the finest new restaurants, as well as those whose roots are planted firmly in their Caribbean tradition, St. Lucia is a land of culinary complexities. Experience fine dining seaside at Tapas on the Bay, or enjoy a tasty European treat at 7th Heaven Swiss Bakery. Whether Creole or more refined, this island has it all.
Our impressive lineup of St. Lucia villas offers you the perfect home base for your stay on her friendly shores. Find your perfect getaway, and let us help you discover St. Lucia like the locals.