Get Going in Grand Cayman with the Ultimate Villa Vacation
Grand Cayman has long been a popular beach destination - but did you know its also home to an impressive lineup of world-class villas? Here's your luxury low-down on where to go, what to see, and (yes) where to stay.
2019-01-07
Grand Cayman lives up to its name in every sense of the word. Fusing arts, culture, natural wonders, and an award-winning island atmosphere, it's no wonder Grand Cayman welcomes visitors around the world to its shores each year. Whether you're in the mood for the endless luxuries of George Town where traditional architecture and modern treats combine, or you've got a penchant for outdoor activities exploring the natural world, the opportunities are endless.
Our world-class Grand Cayman villa vacations are designed to elevate an already exceptional experience. By taking a popular island and offering world-class amenities, luxurious home-away-from-home accommodations, and our in-depth service standards of over 30 years, villas simply transform your vacation into something truly magical. Let's see what sets a villa vacation apart.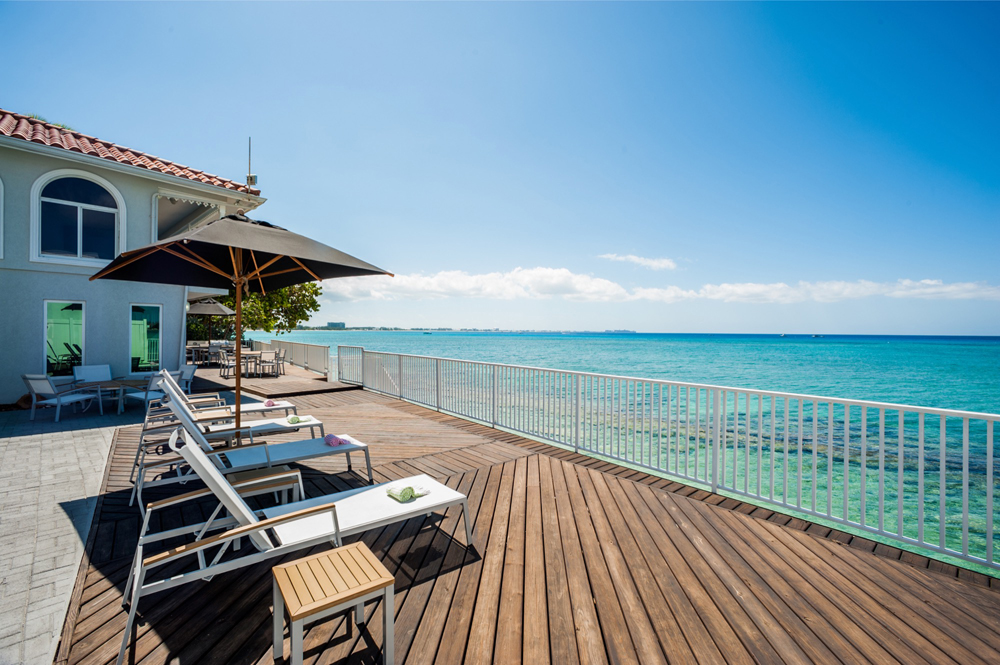 Serenity Now: Seven Mile Beach // 4 Bedrooms // 3 Bathrooms // up to 12 Guests
Why Choose a Villa for Your Vacation?
While the word "luxury" gets tossed around in the world of hospitality and travel, we maintain a standard of excellence and adhere to five main qualities that we believe truly define a luxury villa vacation.
Features & amenities
Incredible staff & services
Superior design – both indoors & out
Location, location, location
Well-maintained to exceed expectations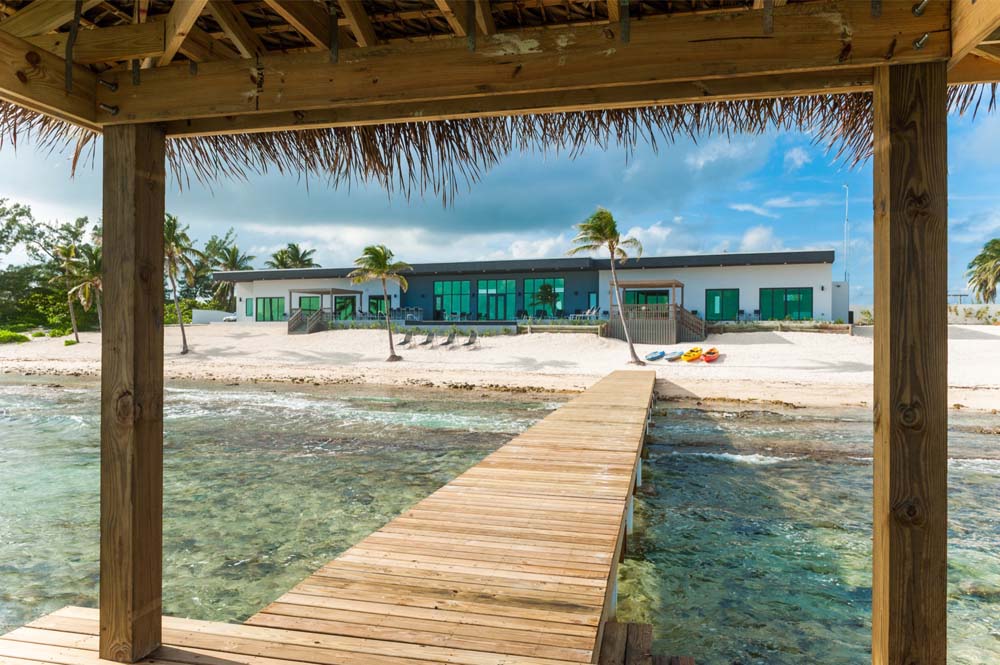 Evolution Villa: Bodden Town // 7 Bedrooms // 7 Bathrooms // up to 20 Guests
Five Things You Should Absolutely Do in Grand Cayman
Visit the infamous Seven Mile Beach. You'll see why it's Grand Cayman's most famous (hint: it probably has something to do with the fact that you can wine, dine, wine, unwind, sunbathe, snorkel, and so much more!)
Explore the mysterious Crystal Caves. You'll venture underground to a world where stalactites and stalagmites create an otherworldly spectacle nestled within the jungle. Pro-tip: bring warmer clothes for this excursion!
Visit the family-friendly Cayman Turtle Centre. Swim and snorkel in a saltwater pool with tropical fish and beautiful sea turtles. Or, soak in the sights of the predator tank and learn about the islands' rich history.
Play golf at the Ritz Carlton Golf Club. This elegant course features a full-service pro shop, personalized coaching, tournament conditioning, top-of-the-line rentals for men, women, and children, and so much more.
Indulge in fine-dining with a view at Vivo in West Bay. Offering some of the finest vegan fare on the island – plus some top-notch Caribbean fish dishes, too – it's a must-try (and see, because the views are to die for!
Three Villas You Won't Want to Miss
We're partial to all our Grand Cayman villa rentals, but if we're sharing just three from our brand-new lineup to share with you. They offer some of our favorite amenities, plenty of space, and access to all your Grand Cayman favorites. Does it get any better?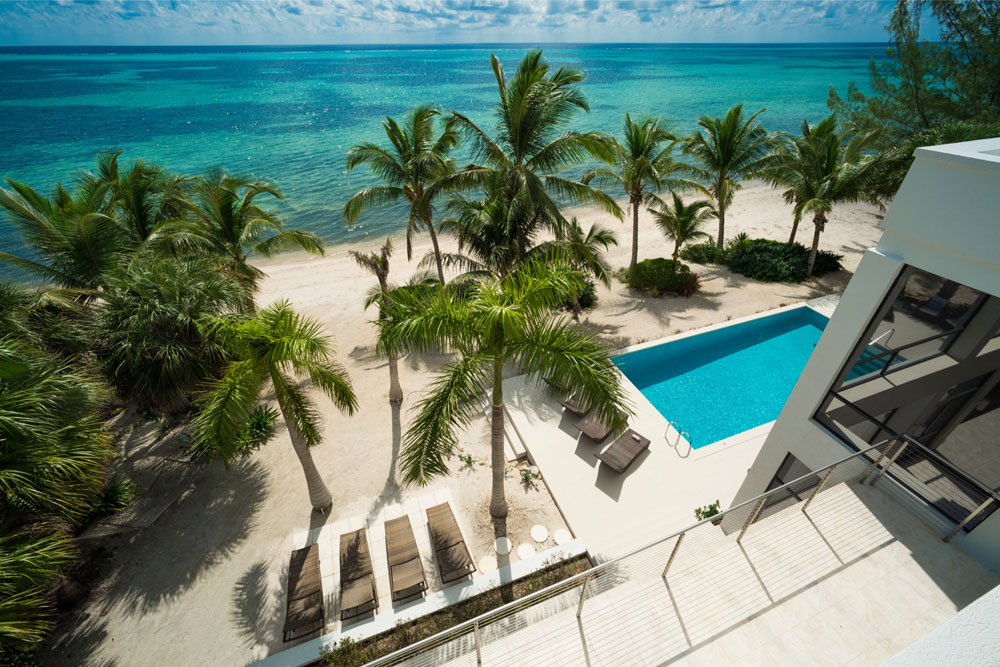 Oceanus: Frank Sound // 6 Bedrooms // 7.5 Bathrooms // up to 23 Guests
Oceanus – Get away from it all at this remarkable 6 bedroom, 7.5 bathroom villa that can sleep up to 23 guests. Combining oceanfront luxury and contemporary design, you'll enjoy a private seaside pool, sandy beach access, and a peaceful oasis to call your own.
Serenity Now – You won't want to miss this 4 bedroom, 3 bathroom villa that can sleep 12 guests comfortably. Located on the North end of the award-winning Seven Mile Beach, you'll enjoy breezy sea views from every corner, plus al fresco meals, and more.
Sun Salutations – This 6 bedroom, 5.5 bedroom estate can accommodate up to 18 guests and offers direct oceanfront access to Cayman Kai. Take a stroll along the beach, or relax in your infinity pool where you can greet each sunrise with the ultimate in rejuvenation.
If Grand Cayman has been on your bucket list for a while, we invite you to explore our impressive lineup of Grand Cayman villas. Each with its own luxury amenities backed by our world-class service and 24/7 support, it's an escape you won't soon forget.