Antilles Pearl + Petit Topaz
Anguilla
Discover the Luxury Villa Difference in Anguilla
Anguilla is one of the Caribbean's best-kept secrets. While its award-winning culinary scene and luxury accommodations have put it on the map, the 15-mile island remains under the radar for many travelers. Learn more about this sophisticated yet easy-going island, what to do, and some of our favorite Anguilla villas.
2023-04-17
Where is Anguilla?
Anguilla is located east of Puerto Rico and just a short ferry ride north of St. Martin. To access the island, you can fly directly from Miami, take a public or private ferry from St. Martin, or charter a private flight from St. Martin. The ferry takes about 20-25 minutes, but the private flight to Anguilla will allow you to skip customs when you land in St. Martin.

Top Things to Do in Anguilla
Anguilla is an island where you can truly escape from it all. From relaxation to exploration, Anguilla offers beautiful landscapes, exciting excursions, and delicious cuisine. If you're looking for a local, relaxed, and refined luxury experience, Anguilla is a great option. Here are just a few of our top recommendations:
Discover Anguilla's Beaches
Anguilla has over 30 beaches, and some of the most popular are Shoal Bay East, Rendezvous Bay, and Meads Bay. We recommend renting a car so you can go beach-hopping at your own pace.
Taste World-Renowned Cuisine
Anguilla's culinary scene is gaining international recognition, and some of the world's top chefs have opened restaurants here. From fine dining - picture steak tartar prepared right in front of you at the beachfront Jacala Restaurant - to delicious local barbecue, Anguilla is a culinary hotspot for foodies of all levels.
Adventure on the Ocean
Anguilla is an incredible island for snorkeling and scuba diving. You can snorkel right off the sandy beaches and spot colorful coral reefs, sea turtles, tropical fish, eels, and more - or take a trip to one of the island's numerous marine parks to dive shipwrecks, expansive coral reef systems, and more. If you prefer above-water activities, you might charter a private boat to go deep-sea fishing or explore nearby St. Martin or St. Barts. No matter your comfort level, you'll find a way to enjoy the crystal-clear ocean waters surrounding Anguilla.
Dive into Exciting Activities
Whether you're a thrill-seeker or looking for active pursuits, Anguilla offers plenty of activities to keep everyone in your travel group busy. Jet skis are prohibited in Anguilla, but you can try your hand at stand-up paddleboarding, night-glow kayaking, windsurfing, kitesurfing, ATVs, and horseback riding.
Engage in the Local Culture
Anguilla has a rich blend of African and British influences. Dive into the island's history at the Heritage Collection Museum or attend one of Anguilla's festivals to experience the island's culture, from culinary festivals to Carnival in August.
Our Featured Luxury Villas
Anguilla is a growing destination for luxury accommodations, but for groups large and small, these villas offer a luxury beachfront experience you're sure to love. Antilles Pearl + Petite Topaz and Blue Diamond are located right on Shoal Bay West, one of the island's most beautiful beaches. They share two private tennis courts and a gym and can be rented separately or together, perfect for a dream wedding venue or a private Caribbean getaway for the whole family.
If you're looking for rejuvenation, the villas' five-star service will not disappoint. Indulge in a private massage on the pool deck or enjoy a private yoga session from the comfort of your villa; the options are endless for a villa vacation that is all about you. And for a limited time, you'll receive a free night in paradise. When you reserve your villa by December 14th, 2023, you'll enjoy a seven-night stay for the price of six. To learn more, click here.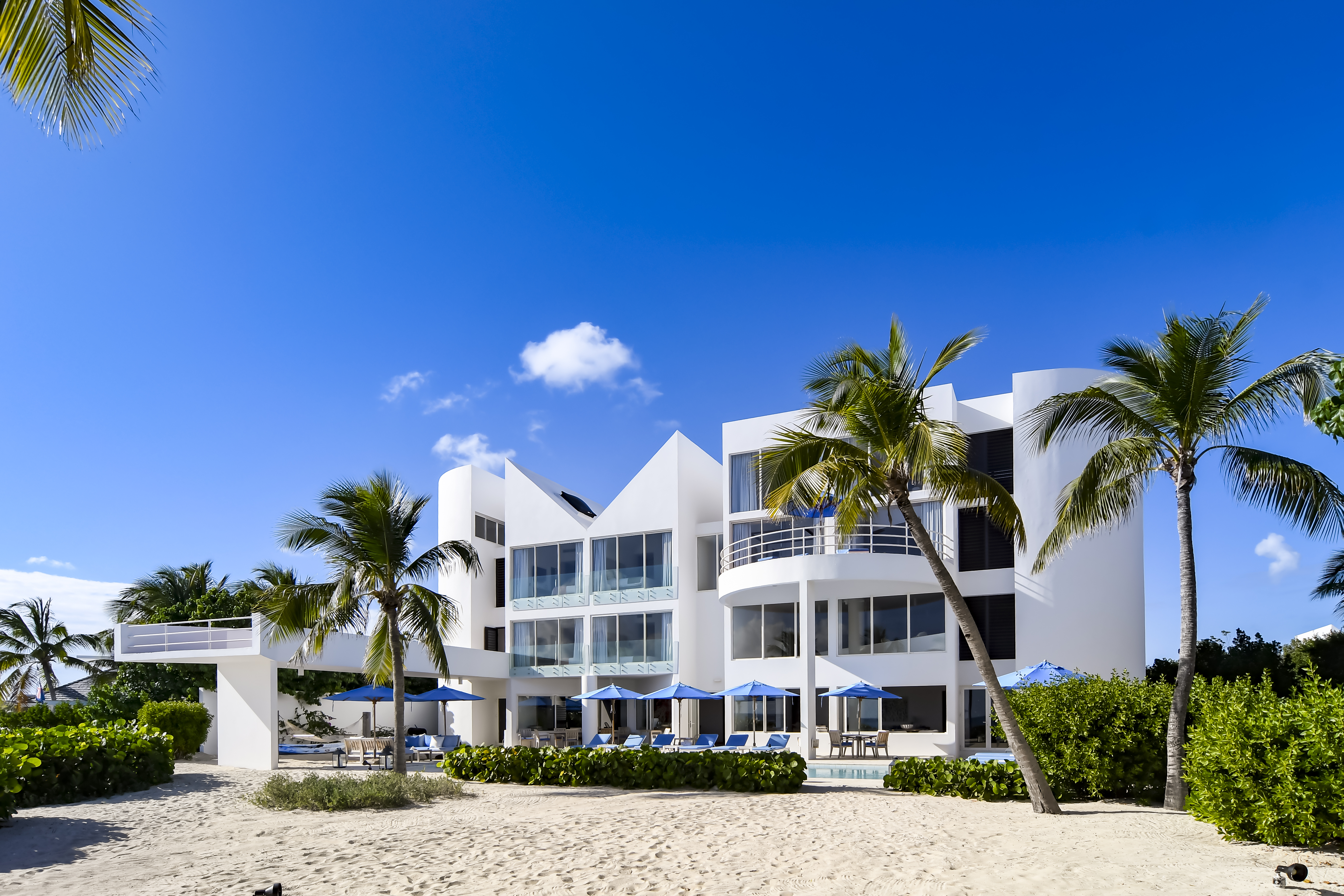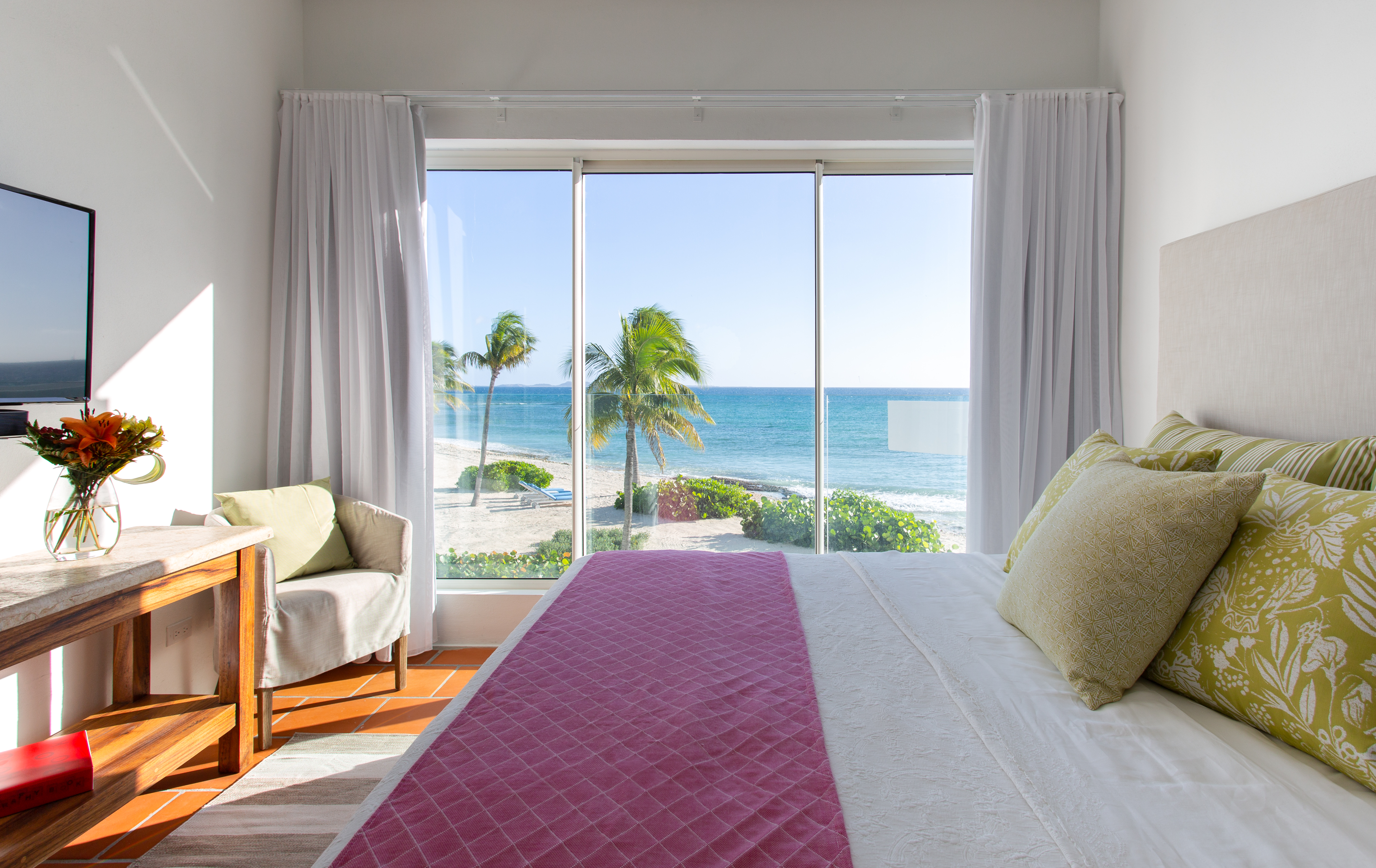 Antilles Pearl: Up to 6 Bedrooms / Up to 12 Guests
Antilles Pearl is the 5-bedroom main villa that will wow you from the moment you enter the villa. Its floor-to-ceiling windows let in plenty of light and spotlight one of the best features of this property: its beachfront location. You'll enjoy ocean views throughout the villa, from the skywalk to the rooftop terrace, and a bright, tropical atmosphere even when you're inside. Highlights include the gourmet kitchen, heated private pool, and theater room. Plus with butler service, concierge, and more included, you'll be able to sit back and relax for the ultimate island vacation. And for large groups seeking even more space, Petit Topaz is a one-bedroom standalone villa that can be rented along with Antilles Pearl and Blue Diamond.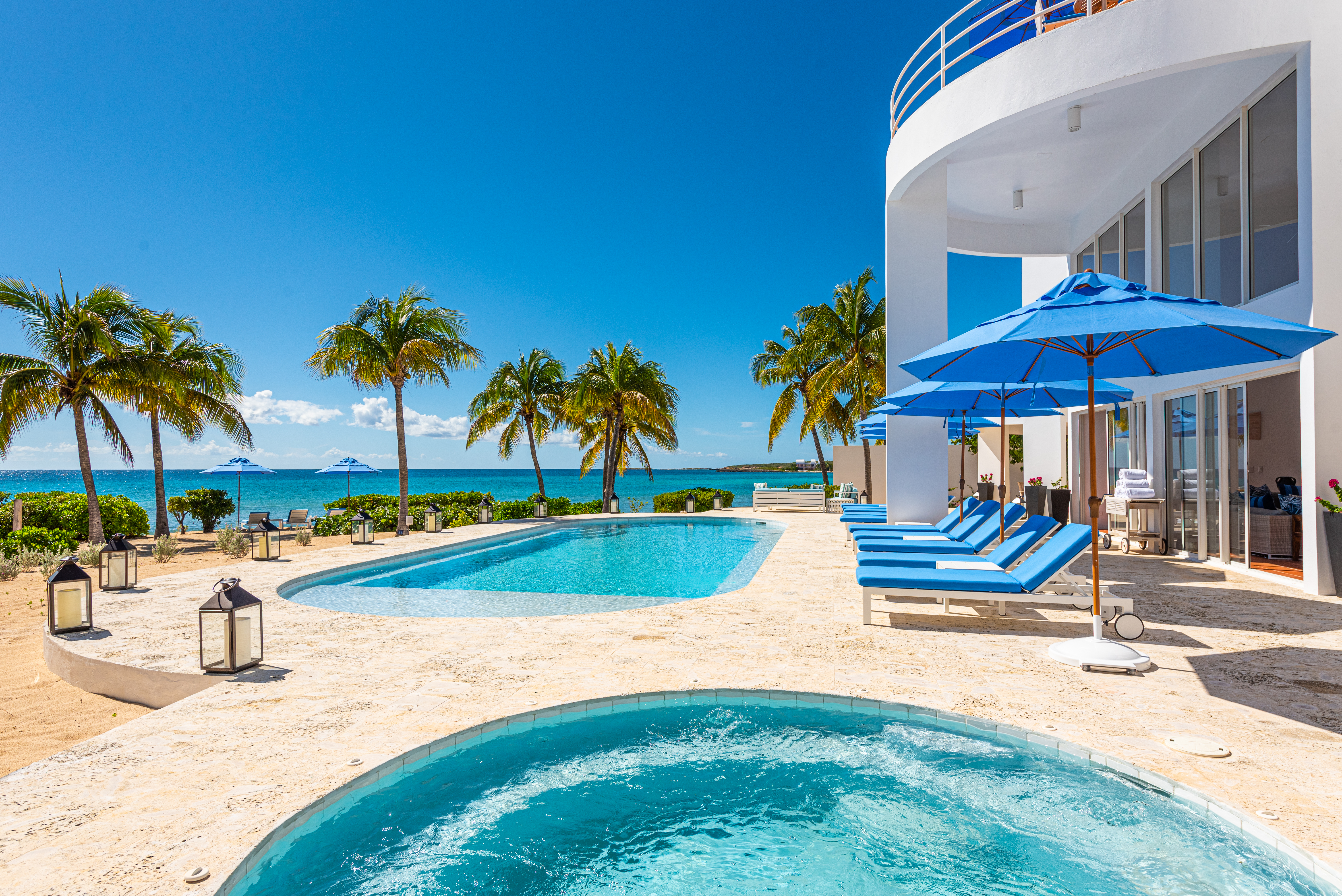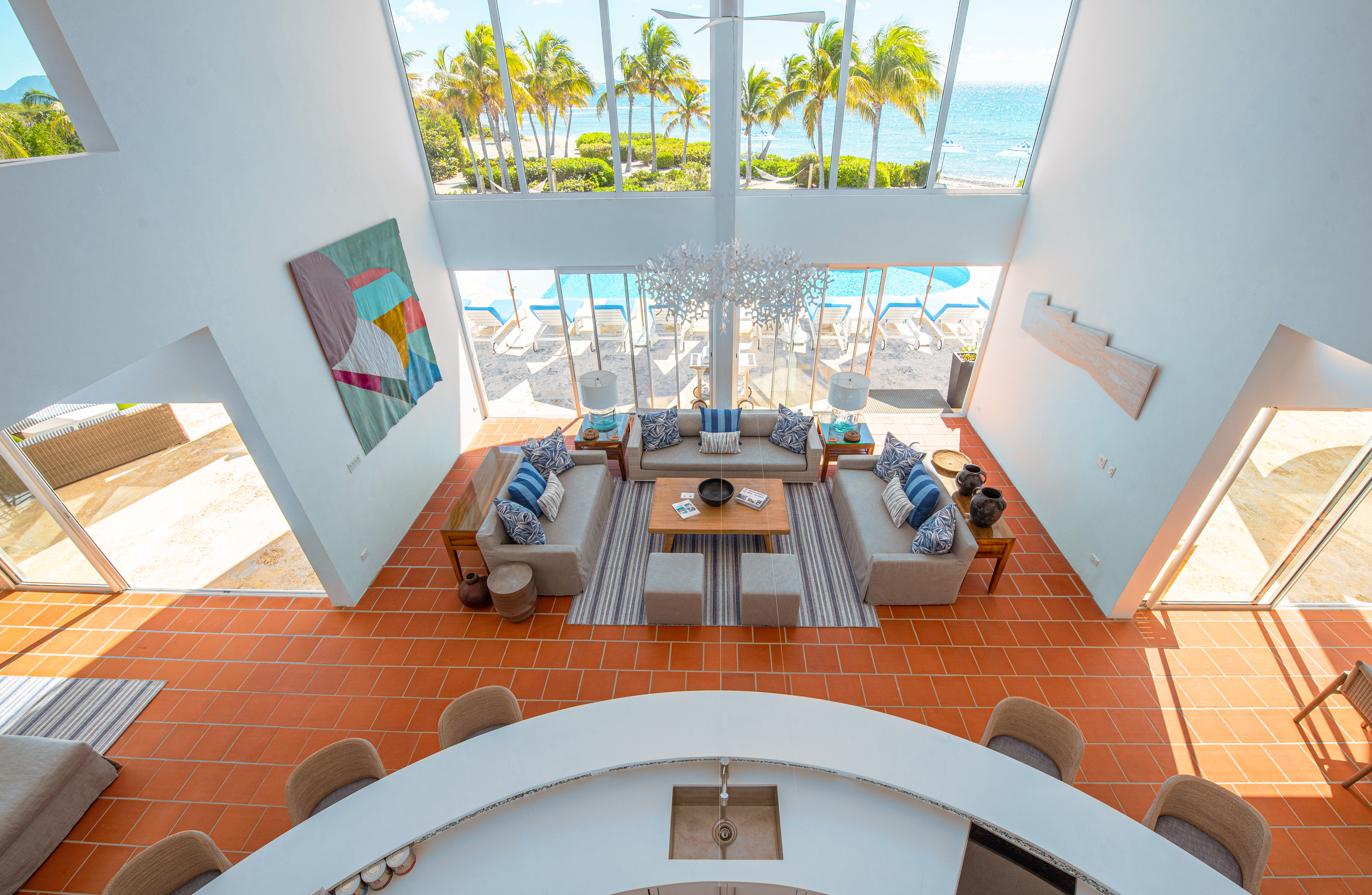 Blue Diamond: Up to 5 Bedrooms / Up to 11 Guests
Similar to its neighbor, Blue Diamond offers breathtaking views and luxurious living spaces. It boasts many custom-built features to maximize entertainment space and spending time together. Sit back and relax while your butler mixes drinks to enjoy by the pool, or take the complimentary kayaks and snorkels out on the water for an unforgettable day of exploring the offshore reefs.
Are you ready to experience a luxurious, beachfront villa vacation in Anguilla? Reach out to your travel advisor or call us at 800-289-0900 to start planning today.