Your Ultimate Foodie Guide to Jamaica
Get ready for a mouthwatering guide to Jamaican cuisine. From bammy to callaloo (and everything in between), it's time to taste your way through Jamaica's one-of-a-kind flavors.
2019-03-12
When you think about Jamaican cuisine, jerk chicken is likely the first thing that will come to mind – and for good reason. It's a staple throughout Jamaica. From the roadside food stands to world-class restaurants with five-star twists. Jamaican jerk chicken is tradition, plain and simple. But here's the literal (and figurative) kicker; there's so much more to Jamaican cuisine than just jerk chicken. We're breaking down what you need to try, plus some pro-tips and more, all for you.
Favorite Dish: Ackee & Saltfish
Saltfish is cod, and ackee is a traditional Jamaican fruit that grows abundantly on-island. Traditionally, ackee and saltfish is a one-pot dish simmered tomatoes, spices, onions, and chilies. The best part? It's great any time of the day, and you're as likely to find it for breakfast as you are for dinner.
Favorite Dish: Curry Goat
Unsurprisingly, curried goat is exactly what it sounds like – goat meat, curried. Extremely popular across Jamaica, "curry goat," as the locals call it, features a subtle kick of heat, and meat so tender it generally falls apart right off the bone. Serve with traditional sides, it's a favorite of both locals and tourists.
Our Foodie Pro-Tip:
Jamaican's love spice. If you have a high tolerance for spicy foods, you'll likely love this. However, if spice isn't your thing, you'll want to take care of dishes that boast a "little heat." Fun fact – Jamaican's liberally use scotch bonnets, a pepper with a 100,000 to 350,000 on the scoville scale, throughout their dishes. Make sure you let your villa chef or cook know how much heat you can stand!
Favorite Dish: Callaloo
Cooked callaloo is a hugely-popular on-island favorite where leafy greens are cooked with spices and more to create a hearty and delicious side dish. Traditionally in Jamaica, it's cooked with coconut milk, tomatoes and onions for a vegan-style side, but some even add bacon or other smoked meats for a unique twist.
Favorite Dish: Bammy
Are carbs your thing? You'll absolutely love bammy. It's a simple but decadent flatbread made from yucca and most often served as a hearty and filling side. The reason it tastes so delicious? The yucca, or cassava, is soaked in fresh coconut milk and deep fried, making it delicious and entirely indulgent.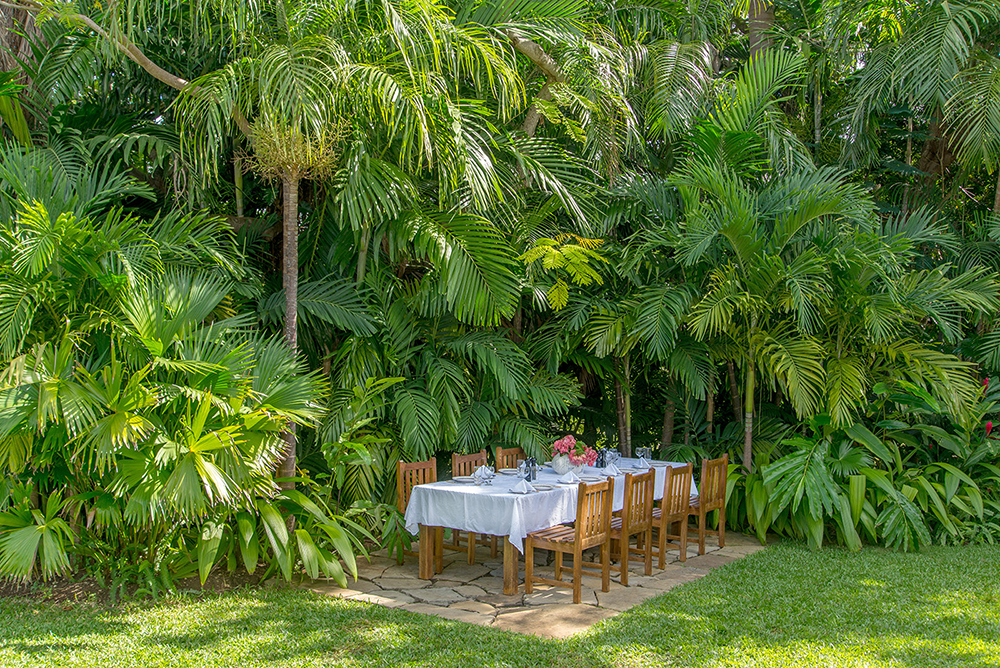 Our Favorite Restaurant:
There's no shortage of great restaurants in Jamaica, but some are simply a cut above the rest. One such restaurant is a unique gem called Stush in the Bush, where the Jamaican natural food movement is gaining a following and making waves. With some of the most delicious farm-to-table fare, you'll see where it grows, how it's made, and taste the literal fruits of their labor. It's a must-try.
Now that your mouth is sufficiently watering, it's probably time to book your dream vacation to Jamaica. Our incredible lineup of luxury Jamaica villas feature full staffs, some of the best views in the Caribbean, and access to all the on-island foods and fun you could ever want. Whether you hope to stay in Montego Bay, Ocho Rios, Discovery Bay, or beyond, we have a dream villa waiting for you.