Deerhaven Gardens, Asheville, NC
An Autumnal Escape to Asheville's Deerhaven Gardens
Experience fall like never before in Asheville, North Carolina's Deerhaven Gardens estate, a villa that redefines the term "southern charm."
2019-10-21
Known for its vibrant arts scene, historic architecture, up-and-coming fine dining scene, and more, Asheville, North Carolina is making waves in the world of stateside luxury travel. With ample places (and opportunities) to rest, relax, and explore, this decidedly southern town has an awe-inspiring backdrop of the breathtaking Blue Ridge Mountains, inspiring guests of all ages from start to finish.
The impressive Deerhaven Gardens estate lies just five miles south of downtown Asheville, and features space for up to 16 guests, a gourmet Viking kitchen, a screened-in Hibachi-style grill and dining porch, open-air decks inviting the fresh mountain air in, and so much more. Best of all, this world-class villa retreat is the perfect home base for autumnal travel to Asheville, where the fall scene invites visitors from around the country – and the world.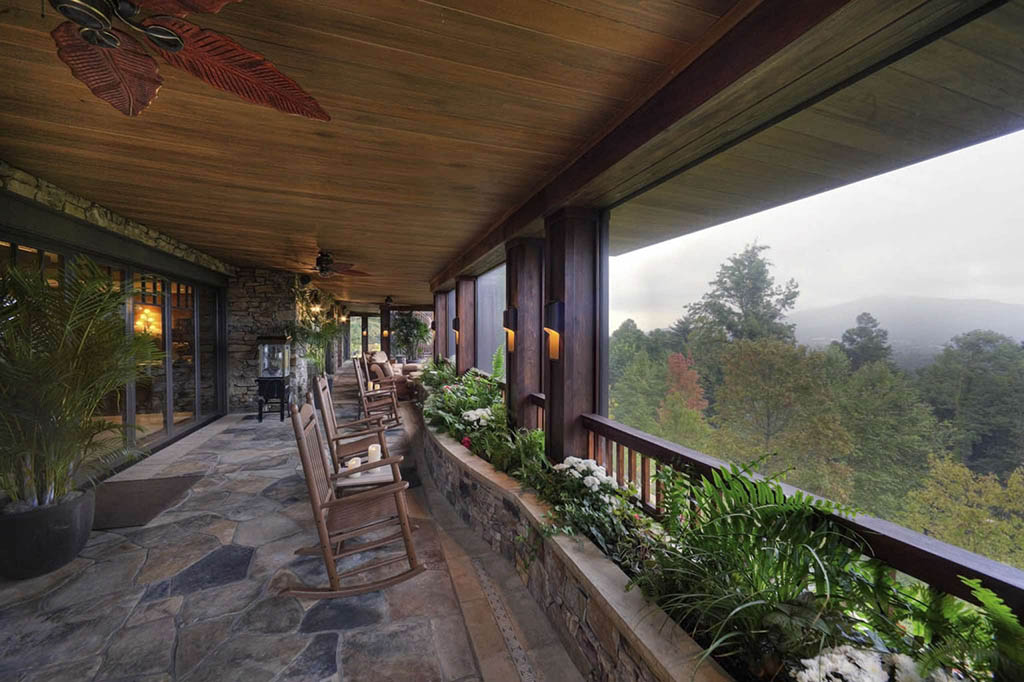 Fall Foliage Activities in Asheville, North Carolina
With a bounty of state and national parks within driving distance of Deerhaven Gardens and Asheville proper, guests of the estate have the ultimate access to fall foliage hikes and world-class views. These activities are tried and true, wrapped in bursting fall color.
Grandfather Mountain – Featuring one of the highest peaks in the Blue Ridge Mountains, you can almost drive to the summit, where you can walk across the Mile High Swinging Bridge.
Great Smoky Mountains National Park – About an hour from downtown Asheville, this is one of the premier places for wildlife viewing and leaf peeping.
Graveyard Fields – This low-valley trail is one of Asheville's favorite hikes (only 3.5 miles total) and offers some of the most stunning views of the foliage throughout October and November.
Looking Glass Falls – One of the most photographed falls in the South, this 60-foot natural wonder is just 35 miles from downtown Asheville. From its observation deck, you can see the foliage reflecting in the glass-like surface below.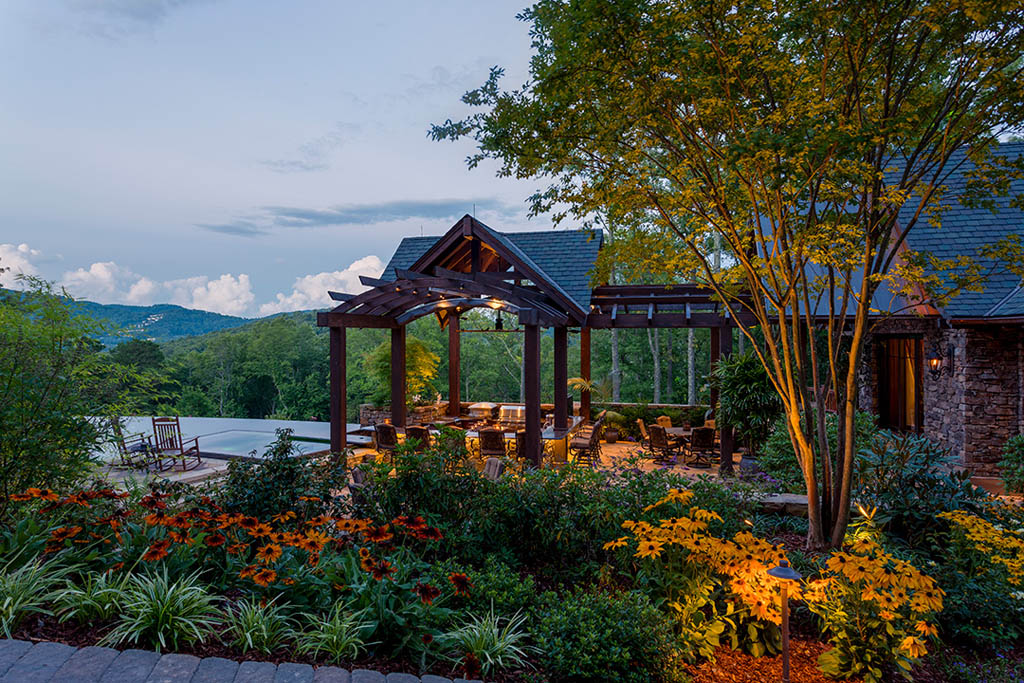 Fine Fall Dining in Asheville, North Carolina
Nicknamed "Foodtopia," Asheville is home to a culinary scene that's both diverse and unique, making for a memorable southern foodie journey for all. With ample opportunities for brunch, food experiences, and more, you're sure to find something for every member of your group.
Brunch at HomeGrown – With an ever-changing menu, you can either dine in the home-like dining room or out on the patio to soak up the fresh mountain air. You won't want to miss the buttermilk fried chicken.
Romantic Dinner at Zambra – Hailed as one of "America's Most Romantic Restaurants" by Travel + Leisure magazine, this tapas restaurant has a superb wine list. Be sure to have your Villa Concierge reserve your table for a more intimate experience.
Sip & Sample at Asheville Brewing Company – Family-friendly and dog-friendly, this Asheville staple was founded in 1998 and delivers a diverse dining menu, as well as their long-time fan-favorite Ninja Porter, which continues to win accolades.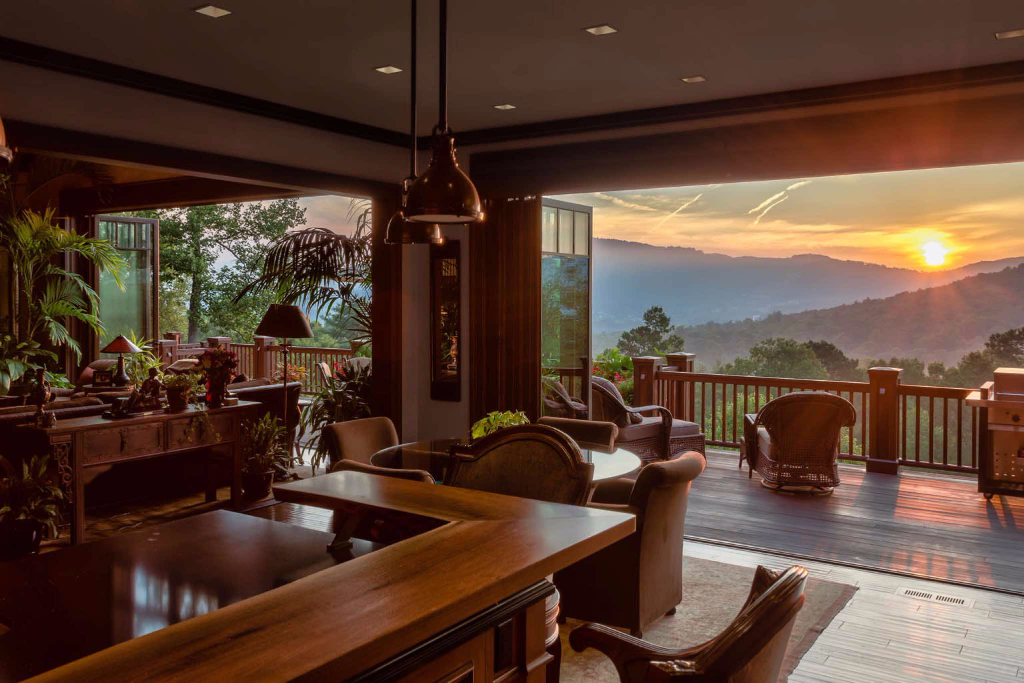 Our Favorite Deerhaven Gardens Villa Features
Perfect for your Asheville vacation home base, this luxury villa is one of the region's most exquisite treasures. From the grand façade to the private country-home feel, as well as world-class features and amenities, it's the ultimate way to stay in style. Here are just a few features you won't want to miss:
Gourmet Viking Kitchen – Don't want to get out for dinner? Add a chef to your villa experience and experience a culinary journey from the comfort of your own home away from home. Up the ante and dine hibachi-style al fresco. This kitchen (and its gourmet features) give your chef the perfect setup for incredible cuisine.
The Spa – Now you can truly have your cake and eat it, too. This in-villa spa features a gym, walk-in steam room with space for up to eight guests, manicure and pedicure area, morning bar, and more. Opening up to the 77-foot curved infinity pool, bar and summer kitchen, and a massage room, it's the ultimate way to relax and unwind.
The Walking Trails – Like a park in its own right, over a mile of walking trails wind their way throughout the grounds, featuring more than 40,000 distinct plants and flowers, as well as incredible views of the foliage around.
Wall-to-Wall Windows & Vaulted Ceilings – Designed to make this estate feel like the premier version of glamping, these features truly bring the outdoors in. Throw up the doors and windows, and invite the fresh air in for the perfect fall evening.
If you're looking for a vacation that's close to home but offers a new take on southern charm, Deerhaven Gardens is the ultimate way to explore Asheville.